It was mid-October and all of our family and friends back in Canada were eating turkey dinners and posting on Facebook all that they were thankful for. I cook for my husband every day so I made the executive decision not to add to my workload in the kitchen by celebrating Canadian Thanksgiving with food. We were both content to eat pizza from a box and drink wine from a box that particular Sunday evening. The emails started pouring in, from female family and friends. Happy First Married Thanksgiving! What traditions have you started? How big was your turkey? I read them with a confused look on my face, cross-legged on the couch as we watched Parks & Recreation, chewing thoughtfully on my pizza crust. Have I already dropped the housewife-life ball? Did we miss a big part of our first year of marriage by not slaving away all day over a turkey dinner for two? Am I… not a good housewife? 
But I mean, sorry fam, no one in Florida gave two clucks about Canadian Thanksgiving. It's just off the radar, and off ours. And since we are living here in America, it made more sense in our minds to celebrate the American version. So in order to redeem myself as a brilliant housewife, I vowed (to myself, really, since I'm alone every day) to cook an authentic, completely-from-scratch American Thanksgiving dinner. Yes, that's right. For human consumption. My husband was pretty chuffed over the idea of us hosting a dinner, and we now have a group of 7 expected to attend.
While I was visiting Newfoundland recently, it occurred to me that I've actually never cooked a turkey before. Never helped handle or prepare one. Thankfully (see, I was thankful for something last month) my mom had the genius idea that it would be worth practicing. (The title photo is proof that this did indeed happen, but hang in there until the video at the end to see for yourself. And no one got Salmonella.) I actually know nothing about American Thanksgiving at all, except for what I learned on Friends. Please pray for me.
Once I returned to the US in mid-November, I hit the ground running. A lot of me cruising around buying extra dining chairs, flatware, and trying out tablecloths. There'll be paper napkins, though, at this feast. If you want cloth, then you can drive 8 hours north to my brother's place because I believe he registered for them in four shades. Then I had to figure out who the heck is gluten free and dairy free. One of our guests is definitely gluten free. I am the dairy-downer these days, but I can also juggle bites with non-dairy dishes and survive. Once I read the literature, though, I knew it would be impossible for me, the housewife ingénue, to manage a dinner free of both gluten and dairy. I am the sacrificial lamb this year. We are going (mostly) gluten free.
Then, well, then I went to Disney for an overnight with my cousin (#selfcare?). But I did spend all of Sunday nailing down recipes, writing out ingredient lists and consolidating them into one giant shopping list. This year I have decided to tackle all American recipes. And who better to go head-to-head with once more but Martha Stewart herself. Yes, even after my fitted sheet failure, I am taking on a mostly-Martha holiday. I can hear some Newfoundlanders groaning and bemoaning the fact there is no boiled veg, no salt beef, no puddin' at this meal. But hey! I'm not broken up about it at all. We chose to go all-American (when in Rome, as they say), and since most of our guests are international, it's pretty much initiation for us all. I'll never cook a Newfoundland dinner better than Nan, anyway.
Fun/stressful/pull-your-hair-out fact: Martha has recipes for Perfect, Classic, Luxurious, and Every Day mashed potatoes. I mean, how do you choose? I actually can't remember right now which one I chose. One with whole milk and half-and-half. (I might pass on eating the mashed potatoes in order to live long enough to see pie.)
As I write this, it's late Monday night. Dinner is being served at 6 pm on Thursday. Yesterday I already baked Martha's Skillet Cornbread for my stuffing. My turkey was moved from freezer to fridge to thaw. I also lined up all of my bakeware that I got from our wedding registry to make sure I had enough.
Today I bought everything on my shopping list, which included two trips to Aldi since I forgot my f**king quarter for the shopping carts the first time around. (For non-Aldi shoppers: you can't unlock your shopping cart to use without one.) I almost had a melt down in Publix because all of the fresh sage was GONE, and the only dried labels said "rubbed" and I have no idea what "rubbed sage" even is. Well, I'm using it now. Tomorrow, I'll make the orange-scented cranberry sauce, and figure out what the heck flat washers and lock washers are in order to assemble the additional chairs.
Wednesday, I will bake the gluten-free brownies, apple pie, chocolate pecan pie, and dinner rolls. I'll prep all of my vegetables for the next day by washing, trimming, chopping. Plus, I'll assemble the sweet potato casserole to leave in the fridge until baking time on Turkey Day. Before going to bed, I'll toast the white bread, cornbread, and pecans for Martha's Classic Stuffing.
Then it's Thanksgiving! The turkey will go in early afternoon and I'll make and assemble the stuffing up until baking point. Once the turkey is out, it's my Everest. I have enough time to bake the sweet potato casserole and stuffing in the oven both at once. The casserole will come out first, leaving me time to reheat my homemade dinner rolls. On the stove top, I'll also start the mashed potatoes, glazed carrots with thyme, and deconstructed green bean casserole (my only non-Martha recipe). And forget the French's Crispy Fried Onions. Remember this dinner is ALL FROM SCRATCH. Those crispy b*stards will be shallots hand-fried in corn starch, because corn starch is GLUTEN FREE. (Confession: I bought a gluten-free stuffing mix because I was feeling overwhelmed at the thought of baking more homemade bread. Sue me.)
And then gravy. While the rolls are heating, I have to make the gravy. Somehow.
SOUNDS SIMPLE, DOESN'T IT?! Don't blink, you might miss a dish.
I have to do this. There is no room for error. Stores will be closed on Thursday, and there will be no chance to buy boxed potatoes or stuffing, or packet gravy. If I don't succeed, we all go down together.
My husband did offer to help, by the way. He requested to make the cranberry sauce, which I promptly vetoed. 2 reasons: he would require stove top time that does not fit in my Turkey Day Timetable, jeopardizing all of the dishes I'm responsible for, and more importantly, he only wants the cranberry sauce so he can make Chan-berry references and then brag about his one contribution all night over dinner. Not on my watch.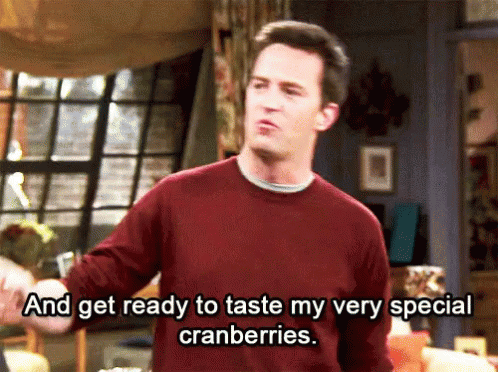 So there's the plan. It's ambitious, I know, especially since i've never made any of these recipes before. If you're reading this, I'm probably elbows deep into my 14.5 pound turkey. The process and end result will be documented and I'll report back with how it all turned out. How many casualties.  In the meantime, I did document the first time I ever touched and cleaned a turkey, last month. All me, unscripted:
(I apologize for shooting this in portrait mode. It was a day of firsts.)